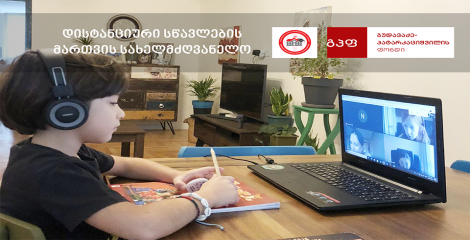 The processes related to the global pandemic posed a new challenge to the Georgian general education system. Schools needed to move from a traditional school environment to a virtual learning process in the shortest possible time.
Forms of distance education were rapidly evolving in the world's most successful educational systems even before the pandemic. The role and share of the so-called "blended learning" has significantly increased in the modern paradigm of education. Regardless of pass or repetition of pandemic waves, the distance learning model has begun to become more crucial in the education system and this process will be irreversible.
In contrast to the long-lasting existence of this practice in many foreign countries, it turned out to be a complete force majeure for the Georgian society. The list of public and private sector efforts and measures taken is quite diverse, both in terms of content and technology, as well as quality.
The readiness of general education institutions for proper and quality management of this process was identified as a significant challenge.
This applies to both teaching and learning, communication with parents, technical aspects and, in general, the administration of the whole process. And for school principals, apart from individual webinars and general recommendations, there is no single resource that would provide them with consolidated information on specific steps to be taken to manage distance learning.
The aim of our joint project is to support Georgian general education institutions in the effective implementation of distance learning, to gather best practices on the example of both Georgia and foreign countries, and to create a unified guide for school administrators with practical / specific recommendations and instructions.
The six-month project has already been signed by Mr. Zurab Kervalishvili, Director of the GPF, and Mr. Gia Murgulia, Head of the NNLE "Georgian Association of School Administrators". The project will start on September 15 and end on March 15.
The textbooks will be distributed free of charge to all educational resource centers and general education institutions across the country.